Olympic Logo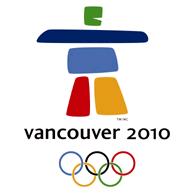 Not that it makes any difference but I like the Vancouver 2012 Olympic logo which was released yesterday. It is simple yet elegant.
Here
is what it all means courtesy of cbc.ca
"The 2010 Winter Olympics will feature a unique design of an inukshuk, a traditional stone sculpture used by Canada's Inuit people, as its official logo.
The winning logo, called Ilanaaq (el la nawk), was unveiled Saturday in Vancouver and was designed by local graphic designers Elena Rivera MacGregor and Gonzalo Alatorre.
Their emblem was selected by a nine-member panel and beat out over 1,600 other submissions.
The logo boasts five stone-like formations in green, two in blue, and one in red and yellow. Two pillars serve as the legs in support of the body, a horizontal shape acts as the arm and an eagle is where the head would normally be. The form stands over the words "Vancouver 2010" and the five Olympic rings.
The different colours represent different regions of the country: the green and blues symbolize coastal forests, mountain ranges and islands. The red represents Canada's Maple Leaf and the yellow depicts the brilliant sunrises. "